Masonry Retaining Wall Construction for Jupiter Residents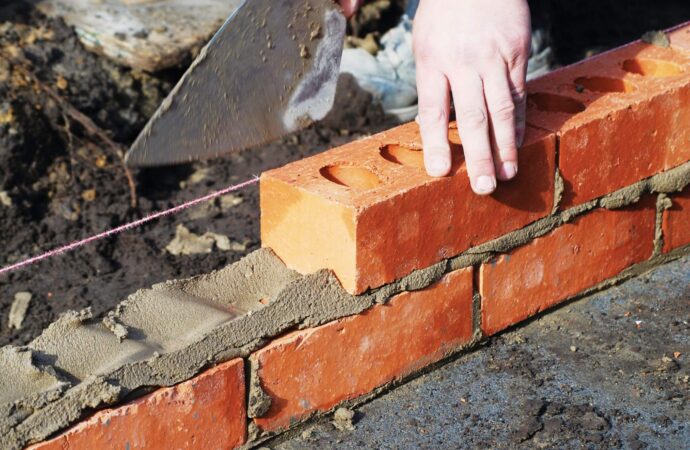 For over 20 years, Retaining Wall Pros of Jupiter has been designing and building masonry walls for all residents, businesses, and entities in the city and nearby areas. We are proud to offer the highest quality walls that will guarantee that all problems and needs are covered, starting with preventing soil erosion. No matter how small or large the project is, our retaining wall contractors can handle it without difficulty. They won't damage the property or land where they are working and will ensure that you get the best result both functionally as well as aesthetically.
We can build any type of retaining wall. Our masonry license allows us to assist with any other project that our customers request. Each mason is skilled and experienced in using the correct materials and techniques to build the highest quality walls for your home or property and to ensure that the wall will last over five decades with little maintenance and close to no repairs.
We are experts in building masonry walls. We use our own materials to ensure quality and add a unique element to any space, so you won't have to worry about recurring expenses and can just enjoy the performance and looks of your wall in the short and long run.
It can be difficult to work with and building masonry retaining walls. While accidents do occur, they are rare. We make sure that contractors and our entire team are covered throughout the project and ensured not only for their own safety but also yours.
It will cover you for any errors or problems within the team. Our insurance covers everything, and you won't have to pay or finance any medical bills or expenses related to accidents. This is a great plus and included in any project or service we deliver.
We are happy to help all residents of the city and surrounding areas that require masonry walls that can resist soil erosion and water diverting and offer great aesthetically pleasing results, so they are the envy and admiration of everyone in the area.
We Know & Are Confident About Being Whom You Need
It can be hard to choose the right company for your project. There are many choices, and although most claim to offer the best services, evidence is lacking. They all promise high-quality services, but do they deliver on their promises? You need to think about which one is right for you and determine, with proof, if they are the right ones for you.
We won't continue to claim we are the best. Instead, we will show it with facts and bring several examples of previous jobs so you get to know how we have helped residents and clients in the area for over a decade and, in all this, we will include sharing our knowledge, so you know you're making the right decision to choose masonry walls above anything else since we care about how confident you feel about your decision.
This wall is complex and requires careful planning. It must be perfect both structurally as well as visually. You don't want to miss out on the opportunity to work with highly skilled professionals. We have trained many of them to increase their experience and skills and make sure you have the best results and walls that will meet your needs and bring great hardscaping designs.
Our team has the knowledge and experience to ensure that you are informed and have a lot of fun. All the tools and materials are provided so everyone can view the progress and see the finished product.
We are licensed and have all the necessary permits. We won't have to spend too much time looking through paperwork or dealing with risks associated with a project not allowed by law. We will handle all of these tasks and ensure that the paperwork and office are complete.
With this in mind, these are a couple of things to know about us when hiring our contractors:
We only use the best quality materials to ensure durability and long-term performance. You won't be charged anything extra for them. We ensure that each component is affordable and that you don't pay more than necessary or you can afford to begin with.
We promise satisfaction and go through several steps before, while, and after we begin building masonry walls. Before we can start, we need to first assess the space and measure it.
We will inform you about the progress of the work, and as long as you're safe and have the right safety equipment, you can come close to the worksite. This gives you an opportunity to participate in every aspect of the process, even the middle.
Your vision and design should be reflected in the final product. This requires us to put a lot of effort into the design and then finish building the wall.
How Do We Build a Masonry Wall for You?
Many masonry companies use the same materials as the walls you see on the streets. We work with only the best materials for every project. We want you to be happy with what we choose together with you as well as the wall itself.
We offer many services for building masonry retaining walls. When it comes to the main materials used to build this specific type of wall, there are several options. These include brickwork, stonework, or blockwork, as well as concrete and tile.
We will discuss not only the materials and how they will reduce soil erosion and water diverting but also how they will look over the long term, depending on how we design and build it. This will ensure that you won't regret making the decision to have this retaining wall either for functional or aesthetic purposes.
Below is our list of additional services: