Concrete Rubble Retaining Wall Construction for Jupiter Residents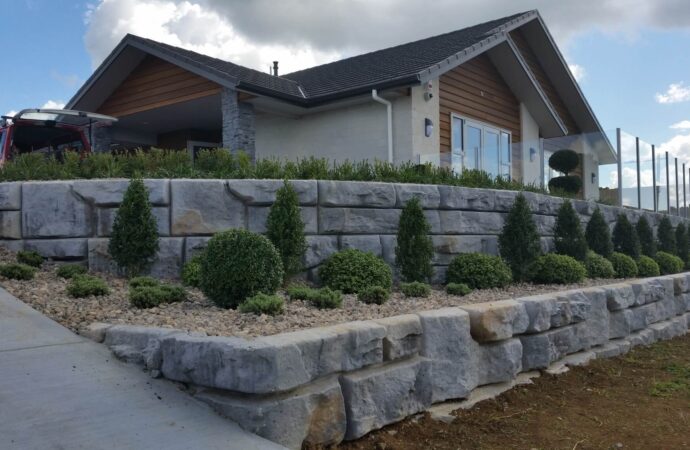 It is important to find experienced, licensed retaining wall contractors in your area that truly offer top services that will guarantee a durable, long-lasting, and great-looking wall in terms of how it blends with the design and landscape where it is built. This can usually be difficult considering all options in Jupiter and how many advertise their services. However, our team at Retaining Wall Pros of Jupiter is here to offer top services, including concrete rubble retaining wall, which is often considered a problem for most contractors as it can take extra work and experience to finally deliver a result that will satisfy all the client's needs and preferences.
Concrete rubble retaining walls are renowned for their beauty, durability, and affordability in all weather conditions, which is why they're growing in popularity. Nevertheless, not many cities and state professionals know how to handle them properly.
Retaining walls can be built from concrete rubble, regardless of the wall being for residential, commercial, construction, or excavation purposes. It is a way to reuse construction materials that would otherwise go to waste. 
They aren't of poor quality but are generally of high-quality and only need to be found for a new purpose. Reusing them can bring down costs and make a wall last for many years. Our contractors have the expertise to help you do this and ensure you get a top retaining wall at a lower cost without sacrificing anything such as longevity and durability.
Our professionals will ensure that the wall fits your landscape and isn't too complex. We want to assist you in achieving both functionality and aesthetics, so rest assured that our team is more than capable of handling building this wall or providing any necessary repairs and maintenance.
Why Do People Choose Concrete Rumble Retaining Walls?
Stone walls are a wonderful addition to your landscaping and quite popular considering how they look and can be made to your exact specifications based on the type of stone you choose for them. However, there are limitations. These are expensive and can be a headache for residents. For business and commercial owners, however, they can prove to be a better investment than a good addition as they bring more in the long run, but if there are other options, why discard them?
Concrete rubble walls offer a more cost-effective, durable, and stable opportunity than any other retaining wall option. If you feel drawn to this option, we will give you all the details and ensure you don't regret the investment once you understand every aspect of it.
Our team will work hard for you to create the design you desire based on your preferences and the location where the concrete rubble wall is to be constructed. We also guarantee stability and resistance to all weather conditions.
Although it may be larger than other walls in terms of features, its unique details make it stand out.
We have listed the advantages of this type of wall to help you understand why it is so popular in your locality and across Florida:
You can create many styles for aesthetic purposes since concrete can be handled and shaped in different ways with the help of qualified and experienced contractors like us.

Concrete rubble is more durable than other retaining walls, such as anchored and gravity retaining walls.

New or not, it can add several thousand to the property's worth. This means that this is a long-term, profitable investment that will bring more than just the benefits you receive during your stay at the property or in any other area.

Concrete can be reused for any construction.

It doesn't really matter how much soil you keep; large amounts of soil will be supported and allow for great water drainage if the wall is properly built.
Don't Question It. We Promise It Is Worth the Shot
Weather conditions and unforeseeable events should be considered when building retaining walls. This will help you assess the performance and appearance of your wall and understand what to expect from it even before you decide to build it. This will help you to determine its ability to withstand the elements and understand why some options may be better than others.
Concrete's natural properties make it ideal for Florida's climate. It is durable and can help us promise a wall that will easily last over five decades.
Concrete rubble's performance will not be affected if you have water drainage or diverting concerns. Concrete rubble is much cheaper than anchor walls and will help with extra soil retention and prevent erosion.
These walls are well-known for their ability to withstand extreme weather conditions, even to the point that frost levels can be reached far below those expected to occur in the area. High temperatures are also possible, which is the opposite of frosting.
This checklist will help you decide whether the wall is a good idea, so let's go over it again:
It will not be affected by Florida's climate; we can assure you that.

Soil retention will be even better as it handles the extra weight. 

Water drainage in the area and all over the space where it is built will be improved.

Soil erosion will be easily prevented.
What Is Usually the Final Cost for Concrete Rubble Retaining Walls?
Permits, materials, labor, as well as costs for all, such as time and the contractors involved, must be included in any project involving retaining wall construction and its estimate. When getting an estimate online or to get a rough idea of how much the wall will cost, it is best to use an average price per square foot.
Concrete rubble retaining walls are $10 per square foot. The maximum cost is usually $20. It all depends on the contractor and the person who is managing the project. Some costs may be lower if they offer better materials or deals around them.
Retaining Wall Pros of Jupiter can help you locate the highest quality materials at an affordable price. We know how important it is to keep soil from eroding and divert water away from your property. We are sensitive to your budget and will not ask you for a large amount of money. Our team will complete all work and give you an estimate that includes all variables.
Below is our list of additional services: