Anchored Retaining Wall Construction for Jupiter Residents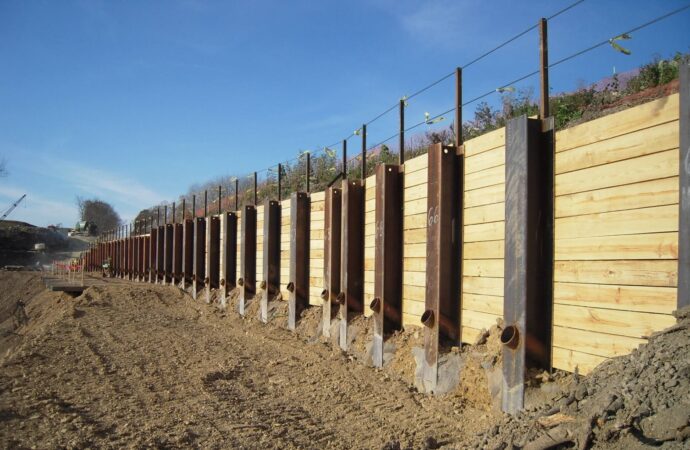 Every retaining wall is unique and when you are going over the types available, analyzing their pros and cons is the best thing you can do. You may get more benefits depending on which type you choose and how you use them. Each retaining wall has its own unique features that can make them perform differently depending on where and how they were built. Some retain soil and rocks better or are more effective than others for water diverting. For example, it is well-known that anchored retaining walls have more balance and stability than stone retaining walls. They are great for large soil masses, and our team at Retaining Wall Pros of Jupiter can offer a full service to make sure you are able to build them whenever they are needed, be it residential or commercial property or any other land you have and is in need of this wall.
You are likely here to either build or install one or maybe require our maintenance or repair services. We want to be clear about their use and construction, no matter what it may be, since you will be able to make a well-informed decision, mostly if what you want is to build one for your own use and needs:
These are used often to stop soil erosion-

They make it possible to drain water or divert water efficiently.

Keep the earth or soil in place during construction to help create new spaces and useable areas by offering more stability and support.
Anchored walls are a great option for traditional brick walls. They can be built in many different ways as long as all measurements are taken accordingly in the area and high-quality materials, as well as qualified contractors, are involved in the construction, which can be achieved in our company as we worry about delivering top quality results and walls that can last for over five decades easily.
It is crucial to determine the layout of your space with anchored walls. To make the best choice when selecting a retaining wall over other options, be clear about the benefits it can bring to your project, and if you can't, we are here to help in every step and process of this construction project as the professionals we are.
What Are the Pros of Having Anchored Walls?
There will always be benefits to any retaining wall, no matter what type specific. It all comes down to how it looks and what it can offer you for your special project, as every wall ends up being a custom structure based on needs and preferences.
We love to talk about the advantages of anchor retaining walls, so you can understand what you are getting from our team and the wall itself:
It provides great stability because the anchors and cables are embedded deeply in the soil. It can stand up and retain soil, regardless of the structure or topography in the area.

You don't have to worry about heavy loads. This allows you to transport heavier loads and keep them in place for many years, along with bringing you the opportunity to use hilly areas and properties that require more soil in place to be able to build them.

Retaining walls can be built at a very low price. Stone walls are typically the costliest. This is because of the work involved in forming stones or using natural options to achieve desired results. Anchored walls are easy to manage due to their structure and engineering. This results in lower construction and maintenance costs.

It provides slope protection. This is the best option if you want to protect slopes and other areas. It should be able to hold everything in place for many decades.

It's a great idea for digging and building sites.
It is the way that both commercial and residential owners can benefit from them, which is what makes anchored walls so attractive. Companies and constructions have benefited greatly from their use of sheet pile retaining walls and cantilever walls.
A lot is dependent on the contractors who will be managing the project. We are confident that we can help you in Jupiter and the surrounding areas, regardless of the nature and location of your project.
Build Anchored Retaining Walls in Your Residence
This option can be used wherever you like, as there are no restrictions on who can benefit from its incredible features and all the pros we listed above.
If aesthetics are more important to you, it's a matter of working with the materials and creating a wall that can meet them. If you feel anchored walls won't be it, it isn't hard to choose another option with our team.
If you don't know the effect they will have on your property, it can be difficult to decide which option you want. It's one thing to look at the properties of others. It is another thing to imagine yours.
We will do our best to give you a design and an idea about the look of the anchored wall. This will allow you to decide if it is right for you beyond the need of having one for soil retention or water diverting, which can usually be achieved by any type of retaining wall.
Our team is available to help with any project. We will gladly assist you with this process and offer support and prices that won't disappoint.
We will work closely with you to fulfill your requirements. We will inspect your property and determine the location where we will place them before we give you an estimate.
Two methods can be used to estimate the cost of a project:
We will arrange a visit to inspect the property and give us a tour. We will design and estimate a project based on your needs and preferences.

We will give you an estimate based on the wall dimensions, how you want it to look, and the number of contractors involved when calling or emailing our team only.
However, the first option is the best and most accurate.
We are happy to provide an estimate for other areas, spaces, or types of property and land.
Below is our list of additional services: