Commercial Retaining Wall Services for Jupiter Businesses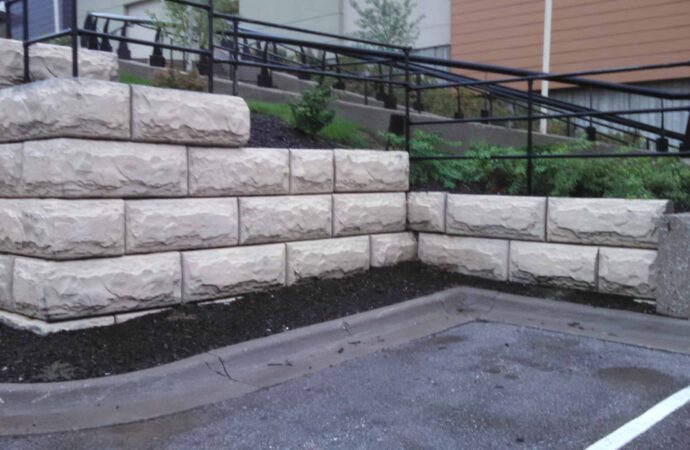 As hardscaping became more popular, retaining walls were thought to be only for residential properties or to add a new look to gardens and patios since more homeowners started using them to create new usable spaces. However, if it is possible to achieve this result in residential properties, why wouldn't commercial owners benefit from this structure? Retaining walls are incredible additions to any commercial property, and we guarantee that even if you aren't trying to get a new look but rather cover some needs and problems with the wall, your investment will be worth it in the short and long term. We at Retaining Wall Pros of Jupiter understand how important they are for commercial and business properties. We have included commercial retaining walls as part of our solutions and services for everyone in the city and surrounding areas.
Our team has assisted individuals and businesses in designing large-scale retaining walls that provide stability as well as support. We can also solve problems related to soil and water on your site, such as excavations or constructions—when they are being performed or in the course—to make sure every member involved is safe and you have a wall that will bring a new addition and safety option to your place.
We want a property to be both affordable and appealing to the eye when it is built. We can design and engineer earth retention systems that can be used in conjunction with walls. These systems can be used to create or preserve spaces in buildings or commercial areas. These allow construction in hills and the opportunity to work on roads and special areas. They provide stability and retention features that ensure safety for all members, as mentioned earlier, and we guarantee that thanks to our skilled and experienced retaining wall contractors, you won't have to worry about anything.
Many Jupiter's businesses and commercial owners have asked for walls to surround their buildings. This is done to keep rainwater out of the buildings and prevent flooding. Retaining walls are not only an attractive feature but also essential for protecting businesses from soil and water or during difficult and unexpected weather conditions or events taking place.
What Retaining Walls Can Be Built for Commercial Areas?
The walls most people choose are often tall and sturdy and can be used to provide privacy and security.
Many commercial retaining walls have been designed by our team to give open spaces a fresh look. A sloped retaining wall creates new experiences, for instance. We want you to be able to use it in any way you like, or that is necessary for your commercial or business land.
We will focus on walls that divert water and prevent erosion before anything else. These walls will be made of sheet piles or concrete rubble and may be medium or tall, depending on the size needed in the commercial lawn and terrain.
There are many options available for retaining walls that can be used on commercial properties and areas that have yet to be built. It all depends on the design of your landscape and your personal preferences as well.
It is important to ensure that all requirements are met and that there are no problems in the future. You should also consider the aesthetics of the project. However, you must keep this list in mind if there are other issues or needs.
It is important to evaluate your space and look at the landscape. We will help you choose the best retaining wall or assist you in this process.
We know that clients are more concerned about aesthetics than the long-term durability and performance of their retaining walls. With more than 20 years of industry experience, we can guarantee that the final result will meet both client needs and preferences.
We are able to help with any commercial retaining walls that include:
Stone retaining walls.

Cantilever retaining walls.

Concrete rubble retaining walls.

Masonry walls.

And many more are made or built with different materials and based on your needs.
We keep your budget in mind as well, so recommendations and what would be the best retaining wall will also depend on this variable and how you want to tackle this project.
What to Consider When Choosing Retaining Walls
While design and functionality are important factors when building a wall, the price can also play a significant role.
Retaining walls can be costly, as you may already know. The cost of materials and labor required to build them correctly can make these walls expensive.
Prices and costs will vary depending on the wall's type, size, height, and other factors. We can give you estimates before you make a decision whatsoever.
Prices for retaining walls vary from $19 to $49 per sq. foot to $50 to $300 per sq. foot. Prices for retaining walls can vary depending on the material used and who does it.
Wood walls, regardless of how well-built or installed, won't offer the same benefits as walls made from concrete, steel, or masonry. Because it has been prepared and given all necessary materials, it won't last as long as concrete or stone, and although they are popular because of the price, it is only a short-term solution and option that ends up being more expensive.
Retaining Wall Pros of Jupiter use stone and concrete—mainly—to build commercial retaining walls. Only the highest quality materials are used. Although some products may be more expensive, we can negotiate lower prices for our products and make them ourselves so that businesses can build walls without having to compromise their estimates or budgets. We understand that this is an investment, not a punishment.
Expect lower prices. If you give us as much information as possible, our team will provide you with an estimate once we have visited the area.
Leave the entire task to us and allow our team of retaining wall contractors to guide you through this process and ensure you can have a wall that is both functional and stunning as needed.
Below is our list of additional services: